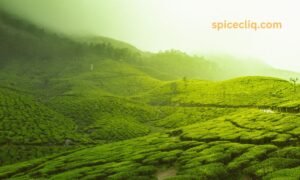 KERALA- SPICES, SCENERY, FOOD…
Kerala is a place where you can find a variety of spices, including the world's best curry powder. The region is known as "the garden of spices."
It's no surprise that this place is so popular—Kerala has everything you need to grow spices! The region is blessed with abundant rainfall, perfect soil, and cool temperatures that help them mature quickly. These factors all contribute to the rich flavors you get from these plants.
 People from all over the world visit this place because of its beautiful landscapes, rich biodiversity, and friendly people who welcome visitors with open arms.
 Another thing about Kerala is that it serves the world by exporting the finest quality spices like green cardamom, black pepper, vanilla, turmeric, cinnamon, etc.
 Which are THE popular spices in Kerala
 The most famous spices of Kerala are green Cardamom, Black pepper, Turmeric, Cinnamon, Vanilla,
Nutmeg, Clove, and more
which cities are the main hubs of spices in Kerala
Kerala is known for its spices. If you have ever been to Kerala, you will know that this state is famous for its unique spices. Kumily (Thekkady), Munnar, Mattancherry, and Wayanad are the hubs of spices in Kerala.
Where can we see green cardamom plantations?
  Green cardamom is a spice that has a unique flavor. We can see green cardamom plantations and green cardamom processing in the Idukki district of Kerala.
What is best in Kerala for shopping
If you're looking for quality spices, tea powder, coffee powder, cashew nuts, kathakali masks, and wooden handicrafts from Kerala, you can find them from Kerala. Kerala has a wide range of products that cover all your needs: from spices to coffee powder and everything in between.
Which food is most famous in Kerala
Kerala is famous for its delicious foods including rice and fish (chorum- meenum curryum), tapioca and fish(kappa-meen curry), puttum kadala curryum, payasam, and many more. If you like spicy food, then you should try the meen curry(fish curry) karimeen(green chromide) is one of the most popular and delicious fish verity in Kerala. It has a very mild taste but it has a strong aroma. It is the most popular dish in Kerala and people from all over the world love to eat this delicious dish.
SPICES MARKET IN KUMILY
The spice market at Kumily city is one of the best spots in Kerala for finding local herbs, spices, and other ingredients. It's also one of the most popular places for tourists from all over India. When you visit Kerala, you'll want to explore the region's diverse cuisine. There are plenty of restaurants in Kerala that serve local dishes like Fish Curry, pachady, aviyal, puliserry, etc.