Sale!
Green cardamom- 7 mm
₹150.00 – ₹1,400.00
Free shipping on orders over Rs 1500
Finest Quality Guaranteed
Free Return up to 7 days
Secure Payment with Razorpay
Description
green cardamom -7 mm
ELAICHI 7 MM
Green cardamom is a spice that is used in many different types of dishes. It can be bought in many different places, but it's best to buy your green cardamom 7 mm size from our store because we have sells only the finest grade. The green cardamom which is sold at our store is harvested sustainably. 
At SpiceCliq.com, you can indulge in the joy of purchasing fresh and high-quality green cardamom at a reasonable price. SpiceCliq prides itself on sourcing the finest green cardamom pods that are packed with intense aroma and superior flavor.
The pods are carefully selected to ensure freshness and quality, guaranteeing a delightful culinary experience. With SpiceCliq's commitment to providing top-notch spices, you can trust that each purchase will meet your highest expectations.
What sets SpiceCliq apart is its dedication to offering these premium spices at a reasonable price, making them accessible to allspice enthusiasts. Visit SpiceCliq.com today and embark on a flavorful journey with their exquisite green cardamom selection.
green cardamom 7 mm
We sell only high-quality export norm products from fresh arrivals. For those who love the flavor of this popular spice, it is important to buy the finest-grade green cardamom. Buy from our store today and get the best quality.
Green cardamom, which is widely recognized for its unique flavor and aroma, is known by several names in different parts of the world. Hindi, the language spoken in India is commonly referred to as "choti elaichi." The term "elaichi" itself is a Hindi word for "cardamom," while "choti" means "small" or "tiny." This name distinguishes green cardamom from other varieties of cardamom, such as black cardamom, which is known as "badi elaichi" in Hindi. The use of the Hindi language name for green cardamom highlights the spice's significance in Indian cuisine, where it is a staple in dishes such as biryanis, masalas, and chai tea
Green cardamom 7 mm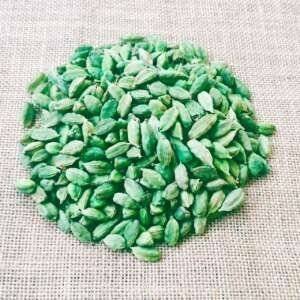 GREEN CARDAMOM 7 MM / ELAICHI 7 mm BUY ONLINE DIRECT FROM FARM. SPICECCLIQ PROVIDES BEST QUALITY SPICES FROM OUR FARMS IN KERALA.
Product SKU: CA4851
Product Brand: Spicecliq
Product Currency: Indian rupies
Product Price: 2600
Price Valid Until: 2023-06-30
Product In-Stock: InStock